Usually to boot from a CD you need to edit some settings (if not already set) in BIOS. Depending on your BIOS vendor you enter the BIOS this way:
1 Power on your computer.
2 Imediatly press the DEL (Delete) key or F2 found on your keyboard. (It might be different for you, but pay attention to the messages on the screen. At a moment in time it will say something like this: "Press DEL to enter Setup"
3 Here you will have to find an option called First boot device it is usually found in the advanced menu on boot priority or something similar.
4 Change it to CDROM. The Second boot device should also be set to HDD-0 or the First Hard-Disk Drive. (Use the instructions on the bottom of the screen – REMEMBER: In BIOS you can't use your mouse!)
5 Save and exit – Usually it's done by pressing a key, (instructions on the bottom of the screen) but you can do it also in the menu)
6 The computer will automatically reboot itself, insert the bootable CD and wait for instructions.
You might also have a QuickBoot option which lets you select the device to boot from, without entering BIOS, for example AMI Bios has this option and you select the boot device by pressing F8 from the keyboard
Here is an image of the Quickboot Option in VirtualBox: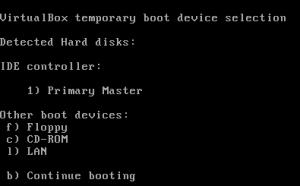 To install Windows see this how to.
To install GNU/Linux see this one.